I'm not really in the mood for gestational jokes, so let's dive on in, shall we?
Soccer Season Ends
The North Carolina Courage had an amazing end to an unprecedented season. I still shake my head in amazement and gratitude for what I witnessed this summer. It didn't come easy for them, either. As was writing last month's update, Hurricane Florence was blowing through North Carolina. As I said in my update, our local area was largely spared the catastrophic damage that hit the eastern part of the state. However, uncertainty over Florence's path and the damage she might bring created a week-long controversy over whether the home playoff game that the Courage earned (against the Chicago Red Stars) should be played here.
In the end, the league chose to move the game to a "neutral" site. That site being Providence Park. In Portland.
NEUTRAL, MY ASS.
Let's be real here. Moving the game to CHICAGO would have been closer to neutral than moving it to Portland.
For all of the pearl-clutching about "making" Chicago travel to Cary in a hurricane, the critics went completely silent when the word came down that it would be the Courage flying out in the middle of the storm.
Yes, I'm still about as salty as a steamy neti pot over what went down and how a lot of it was covered.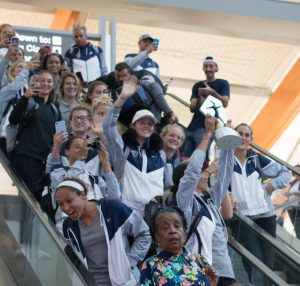 However, knowing this team, they would see this as just another obstacle to overcome. They had overcome injuries and national team call-ups and all sorts of weather. Just tell them where they're playing and they'll be there.
They played their "home" semi-final against Chicago, two days later than scheduled. From a Courage standpoint, the game was a 75-minute "Maalox moment" but they got the win and a chance at revenge for last year's bloodbath final against Portland.
Whatever nerves the Courage had against Chicago were gone 3-1/2 days later, when they stepped onto the pitch against the Thorns. As far as they were concerned, this game was never in doubt. Not in the sense that it was a foregone conclusion: they all knew they needed to show up and PLAY the game. And play it they did!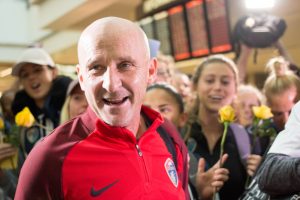 North Carolina FC's season came to an end over the weekend. After getting off to a rocky start this season, they battled their way into the playoff hunt late in the 2018 campaign. Unfortunately, they lost a couple of games in the waning days of the season and just missed the playoffs.
It was a really awesome summer, though. I thought maybe I'd get to a handful of NCFC and Courage games this season, before the opportunity to cover them for Prost Amerika came along. I traveled a labyrinth to get here, but I finally realized a career dream I had when I was younger of being a sports journalist AND a sports photojournalist. I look forward to doing this next season!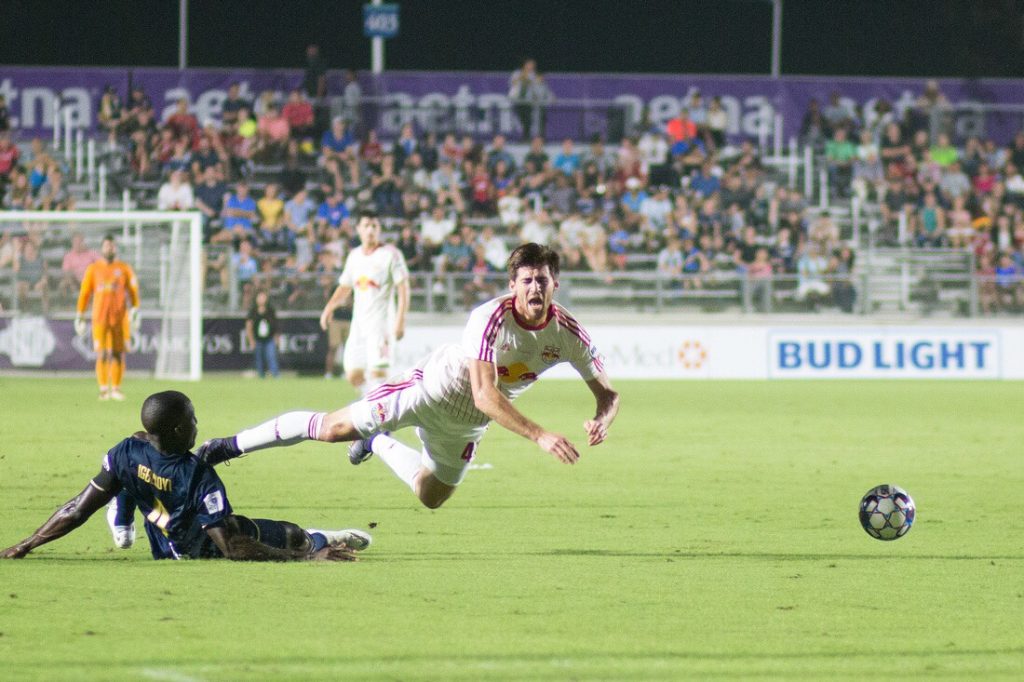 Speaking of Hurricanes
Last month's update was All Florence, All The Time. Month Nine ended with the remnants of Hurricane Michael (it was a tropical storm by the time it got to North Carolina) making a mess of things.
Once again, Raleigh/Cary was spared a lot of the destruction, but we did get some flooding and downed trees. I still had the cat carriers out and most of the bug out packs put together from Florence, so there wasn't a whole lot of prep to do this time.
I, uh, did sort of eat most of the hurricane snacks before Michael even made landfall. No more Utz chips in the hurricane kit for me. I clearly cannot be left alone with them.
As soon as Michael got out of town, fall arrived! I had all but forgotten what 70 degrees and low humidity felt like. (It feels DIVINE!) I'm hoping to get the rest of the film camera arsenal out to capture some fall colors and the NC State Fair.
Cats, Cats, Cats
Charlie and Clancy seem to have a lot more energy, now that fall has arrived. As soon as the temperature and humidity dipped, the Cat Crazies took off. Charlie seems to have that foot irritation again, so I'm giving him the prednisone that we still have from his previous bouts with it. If it continues and we have the funds, I may have the vet try the laser treatment and see if that doesn't clear it up.
I'm still doing volunteer work with Best Friend Pet Adoption. Here are two of my latest subjects. I've started making these social media posts for my Instagram page, it occurs to me that I should share them here as well. *makes mental note*

As tempting as it is to try to smuggle these sweethearts home in my camera bag, I really hope they all find good homes soon.
I remain grateful to #DosGatosLocos, to Miss Billie Holiday, and to my heart, Simon, for giving me the motivation and strength to volunteer my time and talent to help other rescue pets find a home.


Month Ten
As I enter my tenth month I am reminded constantly that I'm in a largely red state. With the election just a few weeks away, I find myself reflexively flipping off the television a lot, especially with the George Holding ads. (Seriously, the guy who claims to favor term limits is running to keep his seat? LOL).
I am also getting myself out and about more. A few weeks ago I noticed that I was falling into some old patterns of holing up in my apartment. But if I'm going to build a life–and a business–I cannot go it alone. I joined a Tuesday evening mindfulness meditation group and have been regularly attending Triangle Marketing Club and Triangle Association of Freelancers meetings. Baby steps.
I've been in a nesting mood recently. I'm not sure where that's coming from. Maybe it's an autumn thing? Maybe it's that old "itch" I would get if I haven't moved in several months (a carryover from my childhood).
On the other hand, I DO still need to get a sofa.