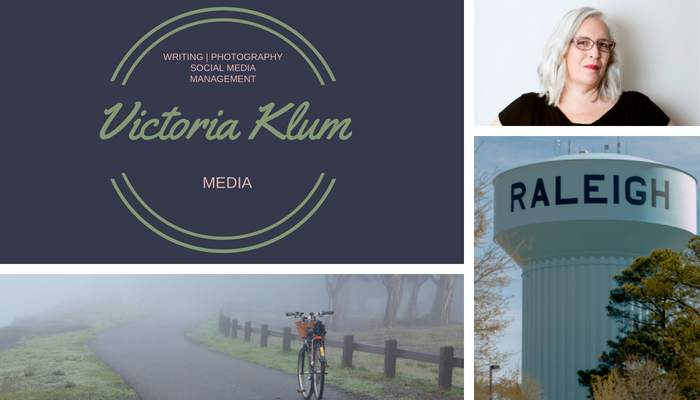 Hello! Thank you for visiting.
My name is Victoria Klum. I am a writer, photographer, and social media manager based in Raleigh, North Carolina. I love helping companies and organizations build and nurture their communities. Put my creative energy and experience to work for you! Scroll down to learn more, or click through to my calendar to schedule a call.
Whether it's words or images, I have a keen eye for composition
I've been a writer since I was big enough to hold a crayon and a became a photographer soon after when I started borrowing my grandfather's Kodak Instamatic. Writing and photography have always been my conduit for exploring the world around me.
My writing experience includes business communication, journalism, and blogging, as well as technical writing and documentation. I describe complex concepts and issues in a way that is easily understood, without talking down to the reader. I have a well-honed instinct for approaching each project with the right mix of gravitas and wit.
My photography background includes travel/scenic, street, fine art, portrait, sports, and architecture. In 2012 I won the Historic Alameda Award in the "Alameda On Camera" exhibition at the Frank Bette Center for the Arts in Alameda, California.
Versatile and Experienced
From bootstrap startups to Fortune 500 companies, I have over 30 years of experience in an eclectic group of environments, including academic, online publishing (serving 12 million page views per month), and professional sports. I have the flexibility to work effectively on long-term projects as well as fast-paced assignments with tight deadlines.
Curious, Creative, Organized
I bring boundless curiosity and creative wisdom to your project so that I can learn what makes you and your brand unique to help you stand out from the crowd. I have 15 years of experience in managing projects and will shepherd your project from concept to launch with care and efficiency.
Building Community Through Social Media
Long before it was known as "Social Media", I participated on BBS and Listservs. I was thrilled by the experience of communicating with people around the world with interests that were similar to mine, in a way that was much faster than "snail mail" and much less expensive than overseas telephone calls.
The social media options available today can seem overwhelming yet they are an undeniably essential part of building a community of loyal customers around your service or product. I will navigate social media channels with you to determine which services are most appropriate for reaching your target audience in the most cost-efficient manner. Additionally, I can manage your social media content calendar to help you maintain engagement with your audience.
Let's Talk!
I'd love to learn about you and your organization and how I can be of service.
Let's connect: here's my calendar to make it easy to find the best time to talk.