A Very Vegan Vicster Thanksgiving
I grew up on those big turkey Thanksgiving feasts, where grandpa and all of the uncles, aunts, and cousins came over and we stuffed ourselves silly. Well, since going veggie almost five years ago, those big turkey dinners are wasted on me. The closest I would get was picking up 1/4 pound of ground turkey from the local butcher and cooking up a treat for Dos Gatos Locos.
I wasn't sure what I was going to make this year. In past years, I made a delicious vegan shepherd's pie, but I had been craving a vegan mac 'n' cheese for a while. And since this is me we're talking about, I had stuff I needed to use up (a can of pumpkin). Before adopting a vegan at home diet, I had made one-pot pumpkin pasta using a block of cream cheese (oh, so good!). This time, the creamy-cheesy came about courtesy of cashews and nutritional yeast.
I used this recipe from Making Thyme For Health as a template for my pasta. I didn't have shallots, so I used the onion. I also used fresh sage and I added some breadcrumbs and finished the dish in the oven.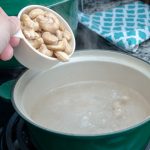 I may or may not do the breadcrumbs next time, but this was SO GOOD! It really scratched that comfort food itch! I finally opened the bottle of prosecco I had been saving and it paired quite nicely with the pasta.

The other dish I made was a curried cauliflower soup. Like the pasta, this comes together pretty quickly, so as long as I was on a roll chopping up onion and garlic, I chopped extra for the soup. I added some red pepper flakes for a little extra heat since it was a cold day.
The thing I really like about this soup is it makes a nice base. I reheated leftover soup and added non-dairy milk and some nutritional yeast to make a sort of cream of cheesy cauliflower soup for lunch the next day.
The last thing that I made, but didn't take photos, was a spinach salad because I was craving greens. I dumped some vinegar, mustard, oil, and spices into an old spice jar and shook it up to make my dressing.
I enjoyed my little feast and gave thanks for shelter, food, clean water to drink, the wonderful people in my life, and most of all, my Best Boys, Clancy and Charlie.