(Fall colors + cool fall weather) + stuff I need to use up = SOUP.
I've been craving curry for a couple of weeks and needed to use up some bell peppers, cans of pumpkin, and the white beans I cooked up in the Instant Pot last week.
What went in the pot:
spices to taste: cumin seed, fenugreek powder, ground coriander, salt, Penzey's Bangkok blend and Penzey's Now Curry blend.
1 medium onion, chopped
3 cloves of garlic, chopped as finely as I could manage
some fresh ginger, also chopped as finely as I could manage
1 green bell pepper
1 orange bell pepper
about 2-1/2 cups of cooked white beans
1 can of diced tomatoes
1 can of pumpkin
1 can of coconut milk
juice of 1 lime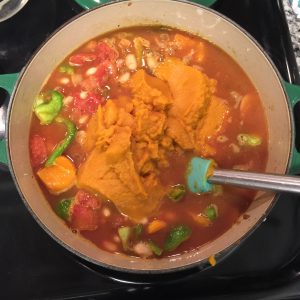 It's warm and creamy and filling. Perfect for cooler weather!